In September of 2009 while I was at Case-Mate we launched an innovative product / marketing campaign called "The Recession Case" This is the history of that campaign!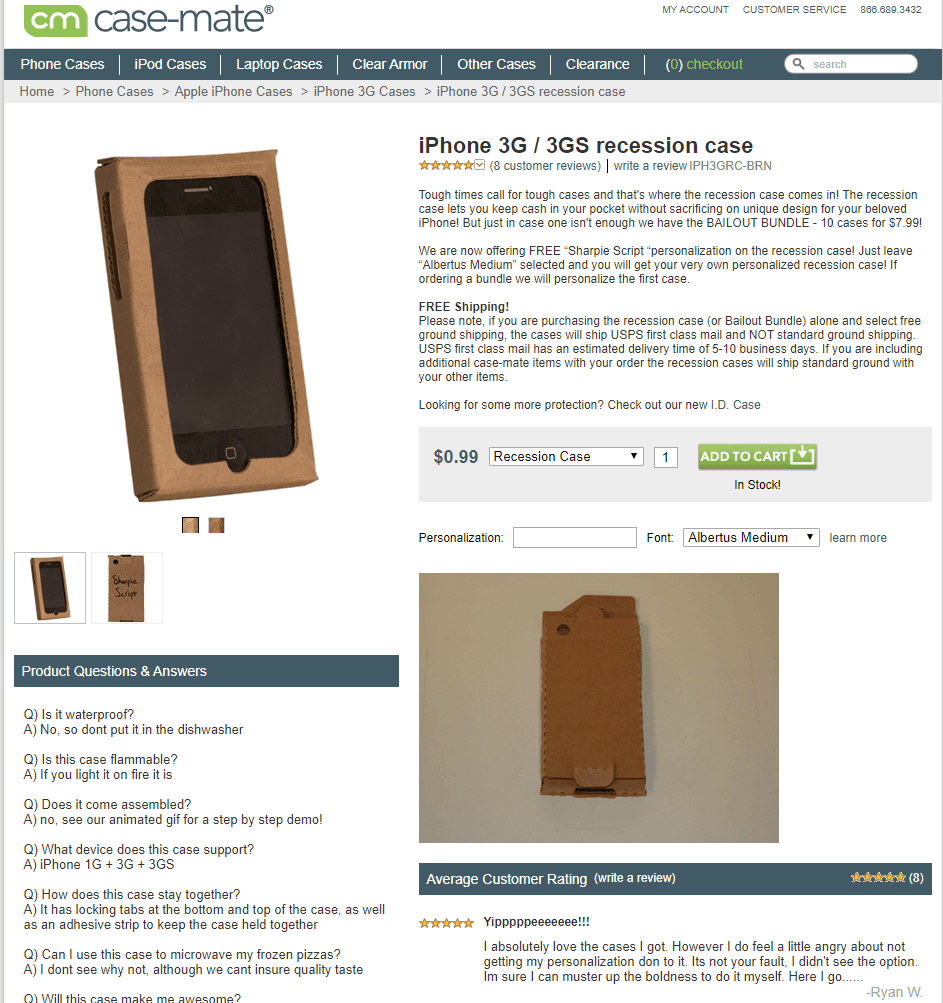 Product Description
Tough times call for tough cases and that's where the recession case comes in! The recession case lets you keep cash in your pocket without sacrificing on unique design for your beloved iPhone! But just in case one isn't enough we have the BAILOUT BUNDLE – 10 cases for $7.99!
We are now offering FREE "Sharpie Script "personalization on the recession case! Just leave "Albertus Medium" selected and you will get your very own personalized recession case! If ordering a bundle we will personalize the first case.
FREE Shipping!
Please note, if you are purchasing the recession case (or Bailout Bundle) alone and select free ground shipping, the cases will ship USPS first class mail and NOT standard ground shipping. USPS first class mail has an estimated delivery time of 5-10 business days. If you are including additional case-mate items with your order the recession cases will ship standard ground with your other items.
3 Different Packages Offered
1 Recession Case – $0.99
The "Bailout Bundle" – 10 Recession Cases for $7.99
The "Stimulus Package" – 25 Recession Cases for $14.99
Sharpie Script Personalization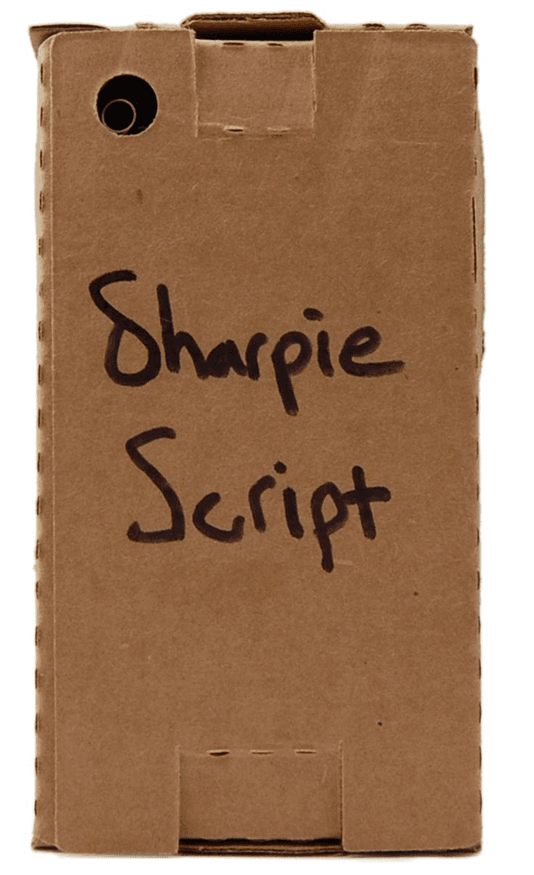 Product FAQ
Q) Is it waterproof?
A) No, so don't put it in the dishwasher
Q) Is this case flammable?
A) If you light it on fire it is
Q) Can I use this case to microwave my frozen pizzas?
A) I don't see why not, although we cant insure quality taste
Q) Will this case make me awesome?
A) I think that goes without saying
Q) Is there a warranty?
A) no, it is cardboard after all
Q) Can I get a paper cut on my ear while using this case?
A) My first guess would be no, but anything is possible, we don't promote unsafe use of the recession case
Q) How long will the case be sold?
A) as long as it needs to be to get us out of this recession! or while supplies last
Q) Does it come with a screen protector?
A) no we are in a recession!
Q) Is the CM logo impressed on the case?
A) This is known as the "peoples case"
The tech bloggers run with the story
After posting the product page we seeded the product with a few of our favorite bloggers. GearDiary.com was the first to post the below article and it quickly spread to almost every major tech blog.
Gizmodo
Engadget
CrunchGear
Mashable
Cnet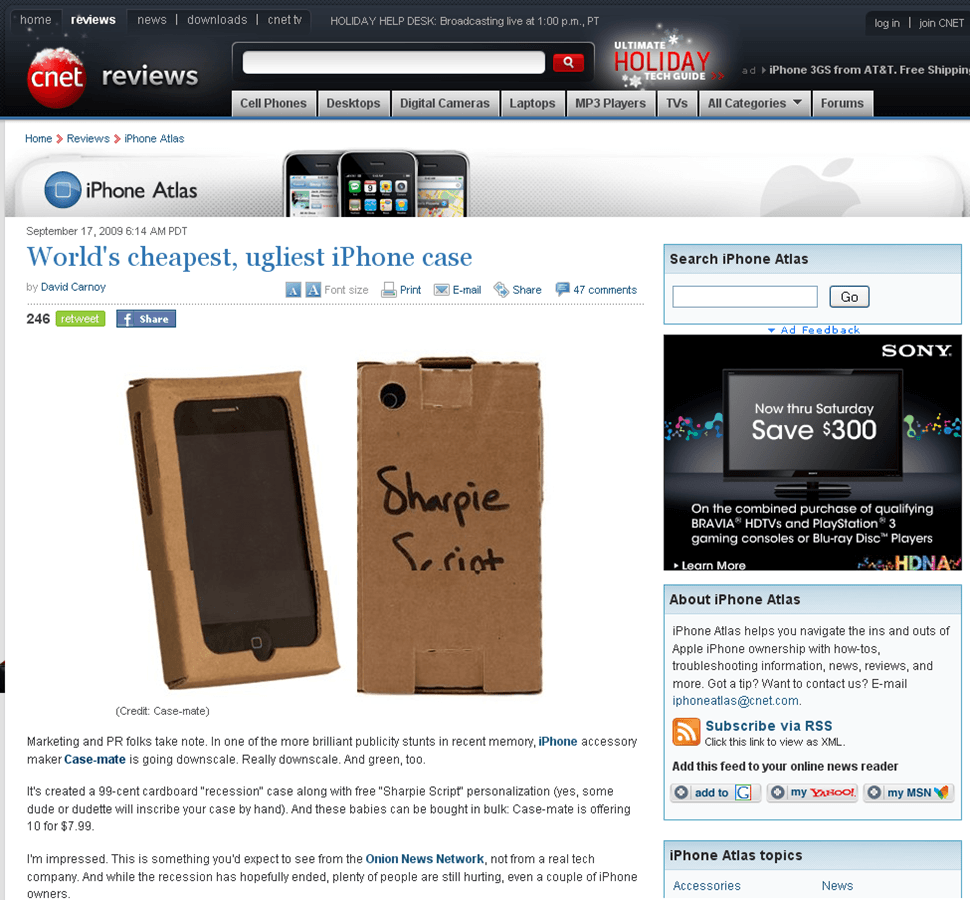 The response was incredible!
In 4 days we sold over 7,000 recession cases and our total site sales and traffic saw a huge spike.
Recession Case on Google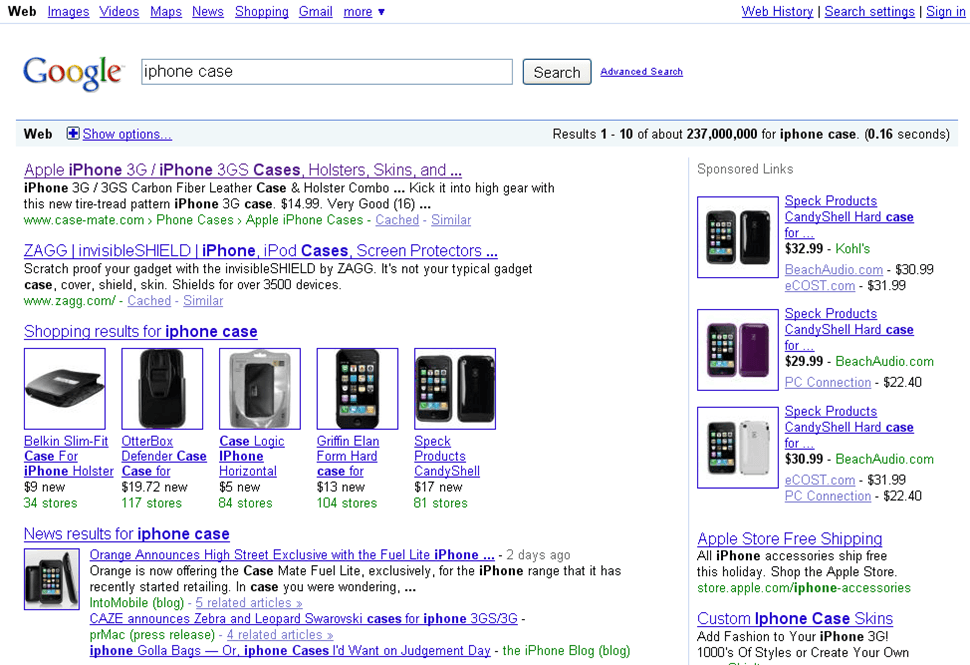 We also got a great boost in our natural search rankings for all of our major keywords like "iPhone case"
The Photo Contest
Once we saw how successful the initial campaign was we decided to keep things going with a photo contest.
Recession Case Dieline Template
Recession Case Photo Contest Entries
Overall the campaign was a huge success and it was a lot of fun to watch how popular it became. I wish I could take credit for the initial idea but that honor goes to Matt Shackleford on our marketing team! Awesome idea Matt!